Hi I'm new! Well...not new to wiki's but new to this wiki anyway:)
I discovered Rosario + vampire yesterday (some of you are proberbly like this right now: (OvO) ) and I became interested because I just love Monster high and I just LOVE anime and a monster anime was just like amazing!!!! (I also love x-men and Clannad-anime)
So apart form my crazy lifetime I want to know you're favourite characters, why you like them, when you found about Rosario + vampire and why you love it so much!
See ya later fellow Rosario + Vampire lovers :)
(Oh! my favourite character is Moka! -both sides of her)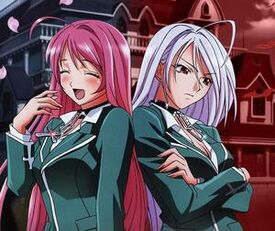 Ad blocker interference detected!
Wikia is a free-to-use site that makes money from advertising. We have a modified experience for viewers using ad blockers

Wikia is not accessible if you've made further modifications. Remove the custom ad blocker rule(s) and the page will load as expected.