Bite Size Monster Dictionary
Edit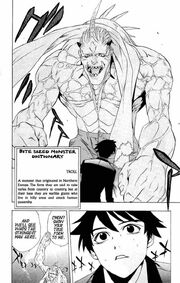 A monster that orginated in Northern Europe. The form they are said to take varies from country to country, but at their base they are warlike gaints who live in hilly areas and attack human passersby.[1]
Appearance
Edit
Powers & Abilities
Edit
Known Trolls
Edit
Ad blocker interference detected!
Wikia is a free-to-use site that makes money from advertising. We have a modified experience for viewers using ad blockers

Wikia is not accessible if you've made further modifications. Remove the custom ad blocker rule(s) and the page will load as expected.