The Summoning Technique is a demon-calling technique which uses the user's own Yoki as food. If the user continues to summon even after running out of Yoki, it will eventually devour their life energy, leading to their deaths.
To use the Summoning Technique, it seems that the user needs some sort of focus in order to summon. Such examples of this are talismans, wands, or even the skull-tipped cane of Xiao-Long Miao.
When the Summon appears, it will be in a small cloud of smoke. The amount of the smoke is not always the same and, in some cases, there may not be much, if any smoke at all.
Known Summons
Edit
Known Users
Edit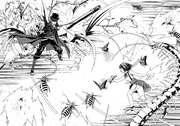 The Summoning Technique is similar to the Naruto universes' version, as it summons an animal in a cloud of smoke.
Ad blocker interference detected!
Wikia is a free-to-use site that makes money from advertising. We have a modified experience for viewers using ad blockers

Wikia is not accessible if you've made further modifications. Remove the custom ad blocker rule(s) and the page will load as expected.