Helping out
This wiki currently needs help with:
You can add info anonymously or log-in and gain the ability to upload images, blog and see less ads.
If you are new to wikis, check out the tutorial.
Before uploading images, check to see if they already exist.
Check out the Forum to see what the community is working on, to give feedback or just to say hi.
What's new on Rosario + Vampire Wiki

23 August 2013 There is a petition for season 3 http://www.thepetitionsite.com/817/629/723/rosario-vampire-season-3/

29 November 2012

testing out the new Forum system

1 August 2010

This wiki is a Spotlight on the Animanga Hub

19 November 2009

Seeded all Chapter pages

15 September 2009

Layout update and organization
Featured article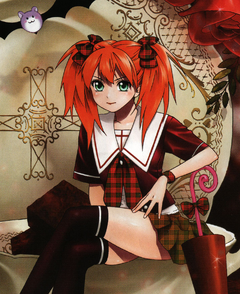 Introduced in the second manga serialization and anime adaptation, Kokoa Shuzen (朱染 心愛 Shuzen Kokoa?) (Koko Shuzen and Koko in the English translated manga by the Shonen Jump Manga company) is the younger sister of Moka Akashiya and the youngest sister of the Shuzen Family. She arrives as a first-year student to Yōkai Academy. Like her sister, Kokoa is also a vampire, but her powers are not sealed. Being younger, Kokoa is not as strong as the 'sealed' Inner Moka, but in spite of this she is able to carry the Transformer Bat, named Kou (also named Koumori Nazo and Kou-Buddy (Kou-buddy being the English dub version of "Kō-chan"), which she was going to give to Moka for her tenth birthday. It was too heavy for Moka (about 200 lbs), so Moka passed it up. Kokoa kept it, and is able to wield it herself with enough strength to make herself formidable.
Ad blocker interference detected!
Wikia is a free-to-use site that makes money from advertising. We have a modified experience for viewers using ad blockers

Wikia is not accessible if you've made further modifications. Remove the custom ad blocker rule(s) and the page will load as expected.