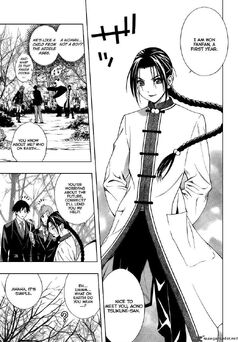 Title- Mafia Boy
Date- 10/26/2009
In this chapter Tsukune meets Fon Fong Wong who is the heir of a important chinese mafia family. Fong Fong definitely wants Tsukune to join the Wong family, because he thinks Tsukune is the strongest guy in Youkai Gakuen (he thinks that Tsukune wiped out the 7th branch of Fairy Tale when actually it was Gin and Haiji ).
Referbacks
Edit
On the beggining of the chapter Tsukune thinks Fong Fong is in love with him, later Yukari says that boys love is getting acknowledged as a wholesome affair in the human world.
What each of the girls think they are to Tsukune is revealed; Moka (truthfuly) says she's his friend, Kurumu claims to be his girlfriend, Mizore claims to be his wife, Yukari claims to be either his soulmate of concubine, and Ruby claims to be his "toy". All but Moka lie, or are simply deluding themselves.
Yukari is the only one who likes the idea of staying a harem.
New Characters
Cultural References
Edit
Unanswered Questions
Edit
Why can't Fong Fong understand that it's wrong to force someone to do something that they don't want to do?
Memorable Moments
Edit
Mizore is shown to have grown tired of letting the "harem" grow, even to the point of saying she'll stab Tsukune.
Yukari points out a truth about the future; the News Club is bound to break up once Tsukune confess to Moka.
Ad blocker interference detected!
Wikia is a free-to-use site that makes money from advertising. We have a modified experience for viewers using ad blockers

Wikia is not accessible if you've made further modifications. Remove the custom ad blocker rule(s) and the page will load as expected.