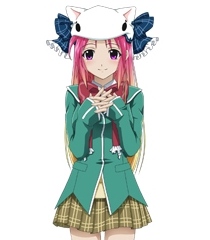 Ren Otonashi (音無 蓮 Otonashi Ren?) is the youngest sister and seems to be the one with the most common sense, but has a habit of only seeing the negative side in things and rarely sees the positive.
Ren appears exclusively in Rosario + Vampire Capu2: The Rhapsody of Love and Dreams and is a part of a group of Sirens who are attempting to gain the affection of all the boys in school by using their abilities.
Despite having the same last name, Ren is not related to San Otonashi.