Akasha Bloodriver
Talk

13
393pages on
this wiki
Akasha Bloodriver
Kana
アカーシャ ブラッドリバー
Romaji
Bloodriver Akasha
Profile
Age
Unknown
Birthday
Unknown
Gender
Female
Race
Shinso Vampire
Hair Color
Pink
Eye Color
Green
Technique
Martial Arts
Personal Status
Relatives
Moka Akashiya (daughter)
Issa Shuzen (lover)
Kokoa Shuzen
(youngest stepdaughter)
Kahlua Shuzen (older stepdaughter)
Akua Shuzen (oldest stepdaughter)

Affiliations
Three Dark Lords (Leader)

Shuzen Family

Voice Actor
None
Akasha Bloodriver
is the biological mother of
Moka Akashiya
and the leader of the
Three Dark Lords
. She is a powerful
Shinso
Vampire
.
Akasha has three step-daughters; Kokoa, Kalua and Akua Shuzen.
Appearance
Edit
Tsukune
, Akasha looks exactly like Outer Moka with long pink hair tied by a black bow, fair skin, and green eyes. She wears a large Victorian-styled gown that is black, along with heeled platforms. Under her dress is a battle uniform which consists of a revealing corset, black shorts and garters.
In the flashback where Miyabi (Alucard's clone) discussed the battle that sealed away the original Alucard, Akasha was wearing a suit of armor that was desgined around her physique and having a sword as her weapon.
Akasha first appears in Rosario + Vampire II Chapter 029. In Chapter 31, it is revealed that she is the leader of the Three Great Dark Lords, and the Shinso - the vampire that defeated the eldest vampire, Alucard. Fittingly, she is incredibly powerful and a very capable combatant once she puts her mind to it. Otherwise, she is very gentle and serene, caring very much for her daughters - both real and by association.
According to Akua Shuzen, Akasha is currently believed to be residing inside Alucard, which is itself held in the Floating Garden, Fairy Tale's Headquarters. Akua also states that she has possibly merged with Alucard because of the time that has past, this has yet to be proven.
Later on, it is revealed by Gyokuro that when Akasha, Touhou and Mikogami were fighting Alucard over 200 years ago, they were unable to defeat him, so Akasha allowed herself to be devoured in order to seal him from the inside, 170 years later, Akasha is rescued by the Shuzen family, but due to being inside Alucard for all that time, her Yōkai and even her blood had combined with Alucard's, this caused them to become synchronized. She would later pass the Shinso blood into her daughter Moka and eventually it was passed into Tsukune.
Abilities
Edit
High-Speed Regeneration: As demonstrated when she was cut by Akua early in their battle, Akasha showed a remarkable regenerative factor. In only a matter of moments, gaping wounds were sealed up, leaving her none the worse for the wear. Even being cut in half by Akua failed to keep her down as it took only a few minutes for her to pull herself back together, much to Akua's complete and utter surprise. As of now, Akasha is the only one seen with this sort of high-speed regeneration ability.
Strength: Her fighting style is identical to how Inner Moka fights, with a variety of kicks, but the difference in raw power that Akasha is capable of generating is exponentially staggering. Due to her age (at least 200+years old), and status as a Shinso blood carrier, her ability to convert her blood's power into strength is many times more powerful than anything we've seen Inner Moka do, or anyone else for that matter. It is due to this strength and high regeneration ability that she was named the 'leader' of the Dark Lords.
Motherly Love
Edit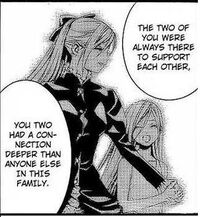 When Moka was born, she was on the verge of death. To save her, Akasha transfused as much of her blood as possible in order to revive her. An unexpected result was that her Shinso power transferred into Moka, saving her from certain death. Akasha's love for Moka was so powerful that she specially made a Rosario Cross for Moka, should her injected Shinso blood awaken. As fate would have it, Moka went berserk upon seeing her mother cut in half by her sister and awoke her powers, at the same time awakening Alucard from its slumber. To save Moka, Akasha gave her life to activate the seal, placing the fake personality (Outer Moka) in place of her daughter, and was subsequently absorbed into Alucard to "seal him from the inside".
Tohou Fuhai mentions that Akasha was so powerful, she was titled "Nosferatu" (a name that means "living corpse", a reference to her regeneration ability). There was absolutely nothing that could kill her when she fought seriously, as shown when she defeated and sealed Alucard 200 years ago.
Akasha's name and title are references to two famous fictional vampires. Akasha being the queen of vampires in Ann Rice's "Queen of the Damned" and Nosferatu being a German remake of Dracula in a silent film.
Akasha also shares the same catch phrase "know your place" with Inner Moka, this is said while she is fighting Alucard to protect Inner Moka.
Both Moka and Tsukune have inherited her Shinso blood.
Akua's statement that Akasha has possibly merged with Alucard may have been an attempt to make Moka awaken as a Shinso without having to use the barrier to destory the seal.
It is revealed by Gyokuro that Akasha has Alucard's blood inside her.
Ironically, the sealing method Akasha used 7 years ago to seal Alucard was the same one she used to seal Alucard 200 years ago. Akasha was later rescued by the Shuzen family 170 years after she sealed Alucard, this means that Akasha can be rescued from within Alucard.
Tohou Fuhai mentioned that the rosary wasn't linked to Alucard, but to Akasha herself. By doing this, Akasha could keep a loving, protective watch on Moka regardless of the distance between them. As such when Gyokuro Shuzen tried to kill Moka after mutating while fused with Alucard, the link to Akasha halted the attack. Tohou Fuhai also theorized that Akasha may have lost her senses after fusing with Alucard, but she still protects Moka in spite of this.